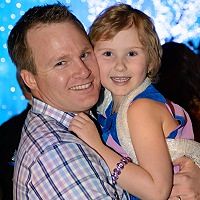 Bob Yarish
Chairman
My daughter Celia was diagnosed with a rare brain tumour at the age of five in July, 2013. I'd attended Kids Cancer Care events in the past, but really never understood what families face when they are confronted with childhood cancer. Celia had 100 nights at the Alberta Children's Hospital, receiving five rounds of intense chemo and stem cell transplants and 30 rounds of Proton radiation in Houston.
Today she is happy, healthy and thriving. As parents, this was a difficult journey and one I don't think you ever fully heal from, however, KCC was a very important group in our journey. Celia and I had the opportunity to speak at the 2014 Dad & Daughter Gala and that was one of the most special nights in my life.
I've enjoyed a long career at TD Canada Trust, having worked there for 18 years. Currently, I'm a Branch Leader, but I've worked in various roles and across Western Canada.
I have a wonderful family; a beautiful wife and three fantastic children. We love spending time outdoors and going to our cabin in BC.
Fun Facts!
1) What's your favorite ice cream topping?
Pecans and favourite ice cream is coffee from Hagendaz.
2) Best read?
Shantaram and any book by Wilbur Smith.
3) What's something on your bucket list?
Take six months off and travel with my family while the kids are still young.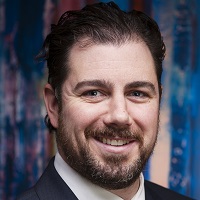 Bryan Arthur
Director
First and foremost, I'm a father to two amazing boys and am a husband to my wonderful and supportive wife Carla. I spent my early years in Vancouver, but have been in Calgary for nearly 30 years. I strongly believe in giving back to the community and doing all we can as citizens to make our city a better, safer, healthier, and happier place for everyone. I am part of Kids Cancer Care to help in whatever small way that I can to positively impact kids and their families going through a terrible time in their lives.
For nearly 15 years I've been involved in the executive search industry. In 2008, I helped build, and then lead, a boutique search firm, eventually selling it in 2016 after receiving numerous accolades including Alberta's Best Workplaces and the PROFIT 500 list from Canadian Business magazine multiple years in a row.
I'm fortunate that I love my career and am excited to get out of bed and go to the office every day. After the sale of our firm, I stayed on and act as Managing Partner of DHR International for Calgary, and Western Canada, a leading global executive search firm. As a member of the Industrial and Advanced Technology practice groups I lead executive search assignments across various industries throughout North America.
I hold a Bachelor of Commerce degree, and am a Chartered Professional in Human Resources (CPHR). I also hold a certificate from Cornell University from the Advanced Program for Executive Search Consulting, and have graduated from the Not-For-Profit Director program through the Institute of Corporate Directors.
In addition to Kids Cancer Care I am currently on the Board of Directors of Vertigo Theatre and am on the United Way Cabinet. I am a past Director of the Human Resources Association of Calgary (HRAC), and the Past Chair of Champions Career Centre, as well as a number of private corporations.
Fun Facts!
1) What's something quirky about yourself?
I have more LinkedIn Connections than anyone else in Canada; over 30,000 1st degree.
2) Dogs or cats?
Dogs, definitely dogs.
3) Best read?
The internet. I only have a few pages left!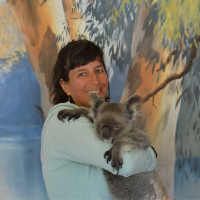 Ellen Breen
Director
I was born and raised in London, Ontario and attended Queen's University in Kingston. After graduation, I began working at KPMG in Ottawa and four years later moved to Calgary. Orignally, we were only going to stay in Calgary for three years but we're still here! I am a partner at KPMG working in Audit Quality and Risk Management. My husband Rick and I have four boys who are mostly grown up, and combined we have more than 50 "man years" of being hockey parents.
I'm fortunate to be at a time and place in my life and my career where I have time to give back to the community. As a family, we believe that you get more out of anything when you put more into it, and giving time to great organization in Calgary is important. My husband was a High Hopes participant a few years back, and keeping my feet firmly on the ground also seems like a good idea. Kids Cancer Care is a wonderful organization and I feel honoured to be part of it.
Fun facts!
1) What's your favourite movie?
How the Grinch Stole Christmas - the orignal cartoon!
2) What's your favourite read?
Any mystery/thriller that I can curl up on the couch with
3) What's your favourite ice cream flavour?
Tigre Tail
4) What's your favourite travel destination?
Anywhere with my family!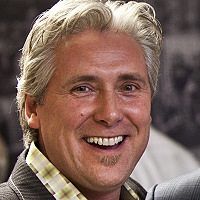 Fred Desjarlais
Director
For most of my adult life I have happily given an enormous amount of time and energy to committees and boards connected with my industry and contributions to community causes with cheques. I've been motivated and inspired to flip these priorities around because of two impacts in my life 1) the battle of a serious cancer illness by a very dear friend of mine and 2) the chance opportunity of my involvement with Christine McIver and Kids Cancer Care.
Experiencing children and their families that find the "cancer monster" blocking their lives path, gives clarity and purpose to where I need to dedicate energy and influence. I find my role here to be an honour that I take on full heartedly.
Raised a farm kid in central Alberta, chores, sports and school were the priorities, usually in that order. I stepped out on my own at an early age, and it wasn't until I learned of impending parenthood that I embraced advancing my education. I am proud to be part of growing an incredible business in Alberta that has gained the reputation of excellence from our clients. I love Calgary, but I also love to travel where I search out fun sporting events. My wife and I are blessed with a wonderful life that includes four children, four furry kids and many dear friends.
I spent the first 12 years of my career working with Alberta Transportation building and maintaining Alberta's vast road network. During my tenure, I was part of the team that developed the program to outsource all of the Province's highway maintenance. It forever changed the industry, and in 1998 I received the Premier's Award of Excellence for my efforts.
I am Vice President for Volker Stevin Canada, a highly recognized and reputable heavy civil construction and contracting company. I work from our Canadian headquarters based in Calgary, where we build and operate the incredible infrastructure system that brings all of the necessities of life that we need and enjoy – water, roads, airports, utilities.
Fun Facts!
1) What's something on your bucket list?
Spend a summer retracing the countryside and villages where my grandfather grew from a boy into a man during WWII…Italy, France, Belgium and Holland.
2) What's something quirky about yourself?
I can't sit still while I talk on the phone. I have likely walked across the country within the confines of my office while talking on the telephone.
3) Dogs or cats?
We have two cats and two dogs so someone in our family will be upset with either response…but I secretly prefer my long weekend walks with our Airedale Terriers…sorry Digger the cat.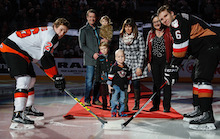 Dean Duffin
Board Member
I am fortunate and grateful to be husband to my dynamic and successful CMA wife Kelli and father/hockey coach to three amazing kids! Professionally I am CEO of Linear Logistics, a start-up company based here in Calgary. The fast pace of the logistics industry and the growth of our organization keeps my work life very interesting and engaging. However, our family life was changed forever in the fall of 2015 when our middle son Samuel, aka Sammy the Soldier, was diagnosed with a rare and aggressive form of leukemia.
The amazing doctors at the Alberta Children's Hospital had to change Sammy's treatment from a more standard chemo and radiation protocol to a stem cell transplant. Fortunately, his older brother William, and hero in our family, was a match and was able to donate his blood system to his little brother! They are both well and thriving today, but the fear this created and meeting other families and the loss they face due to cancer led us to become involved in childhood cancer advocacy and fundraising for people facing this battle.

Our first experience with the amazing work of Kids Cancer Care was when we were on our first of hundreds of overnight stays at the hospital, where they were hosting their weekly Pizza Nights for parents and children on unit one. Since then, we have learned more about Kids Cancer Care and its commitment to supporting families in all facets of the fight against cancer. Our kids have also been to their SunRise day camps in the city, Camp Kindle, the Christmas Carol and many other amazing events. We are also very proud of, and grateful for, the advocacy Christine and the Kids Cancer Care team were able to do to get Alberta children access to CAR-T Therapy recently. It is an honour to be able to give back to this amazing organization.

Fun Facts
1) What's your favourite movie?
The Usual Suspects
2) What is your favourite ice cream flavour?
Mint Chip
3) What is your spirit animal?
Wolf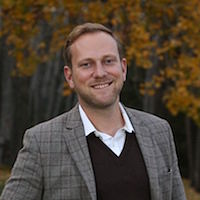 Iggy Domagalski
Director
I spend most of my days leading Wajax in a quest to be Canada's #1 industrial equipment and services provider. My main job is to find amazing people who align with our vision and culture and help them to be the best leaders they can be.
Part of that culture is giving back to the community that has supported us for so many years, which is part of the reason I'm so passionate about helping the Kids Cancer Care. I initially began my involvement with Kids Cancer Care because of its stellar reputation, local presence and child and family focus. Over the years I have been pleasantly surprised over and over about how impressive the organization truly is. From the events to the people to the research, everything is first class. I have been proud to be involved with Kids Cancer Care for eight years in a number of fundraising roles and was honoured to be asked to join the board.
Outside of work and community involvement my passions are family, music, running, skiing, and reading, and I'm lucky that I get a fair amount of all of them in my life.
Fun Facts!
1) What's something quirky about yourself?
I love to play guitar and sing, but unfortunately don't have enough skill to make a living at it. My kids don't seem to mind, and every time I pick up the guitar they yell out their request for their favourite song, which is "Wild Thing."
2) What's your favorite ice cream topping?
Variety is the spice of life, but when it comes to ice cream it's plain ol' vanilla for me. And maybe some chocolate sauce.
3) What's something on your bucket list?
The list is long and includes writing music, producing a movie, and traveling around the world. But the item I hope to cross off next is running a full marathon.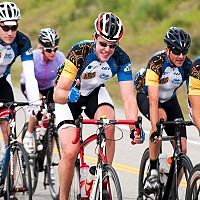 Bryan Duguid
Director
For a year or so, work commitments caused me to reduce the time that I normally devote to charitable goals. In a way, that was good, because it made clear that dedication to a worthwhile charitable cause is more of a "must have" than a "nice to have."
In deciding what next, I quickly gravitated to children/youth causes, because of the critical nature of that point in one's life. From there, I felt the pull toward helping kids with cancer.
Although I am happy to report that my wife and I have two teenaged daughters that have not been afflicted with cancer, over the years, I have had the privilege of meeting many brave children and their families who have not been so lucky. In the course of that, I have come to learn what a difference can be made for both the child and the family, through research, care, and the simple chance to be a worry-free kid (even if just for a short window of time).
So, it was a no-brainer to seek to join the Kids Cancer Care Foundation of Alberta.
I hope that I will be able to help with Kids Cancer Care's mission. Besides my legal and business skills, I served for eight years on the Advisory Board for the Children's Wish Foundation, Alberta and NWT Chapter, including the last few years as Vice-Chair. I raised funds and awareness for kids' cancer by cycling across Canada in 2009. I have participated in the Alberta Tour for Kids for many years. In fact, that was my first introduction to KCC. And, as Tour for Kids participants, we stay at Camp Kindle. What a facility that has become.
Fun Facts!
1) What's something quirky about yourself?
As a teen, I worked at Dairy Queen in Regina.
2) What's your favorite flavour of ice cream?
Ice cream? Had enough of that. Gelato. Pistachio.
3) What's something on your bucket list?
Seeing the rest of the world, one trip at a time.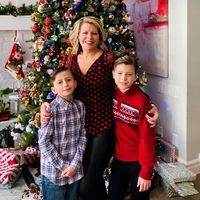 Dania Filippetto

I am the proud mom of twin boys and the founder and president of Rangeland RV & Trailer Sales Ltd, which just celebrated 20 years of being open! One of my favourite things is helping RVer's build memories with their families and friends in the great outdoors of Alberta. I am also passionate about mentoring and coaching my team members to grow both professionally and personally.
We have grown so much from our first corner lot many years ago. We have been in the Top 50 RV Dealer's in North America for five years running and the Top Forest River dealership in Alberta. I have sat on a number of boards including the RVDA of Alberta Board of Directors, where I was present for two of my eight years with them. I have also sat on the RVDA of Canada Board of Directors and was nominated for Woman Entrepreneur of the Year in 2016.
When I was first introduced to Kids Cancer Care over 18 years ago, I was so moved by what founder and CEO Christine McIver had created. She inspired me to create a fundraiser at our RV Show each year that sends kids to Camp Kindle. Over the years we have raised over $300,000! On the board, I hope to help make a difference in making the journey towards a cure come true. I am excited to connect Kids Cancer Care with many of my community and business connections here in Alberta!
In my spare time, I love to spend time with my boys and well as camp, golf, travel and cook!
Fun Facts!
1) What's something quirky about yourself?
I like my french fries with mayonnaise on them.
2) What's your favourite ice cream topping?
No topping, mint chocolate chip is my go to.
3) What's something on your bucket list?
Tour through the Greek Islands.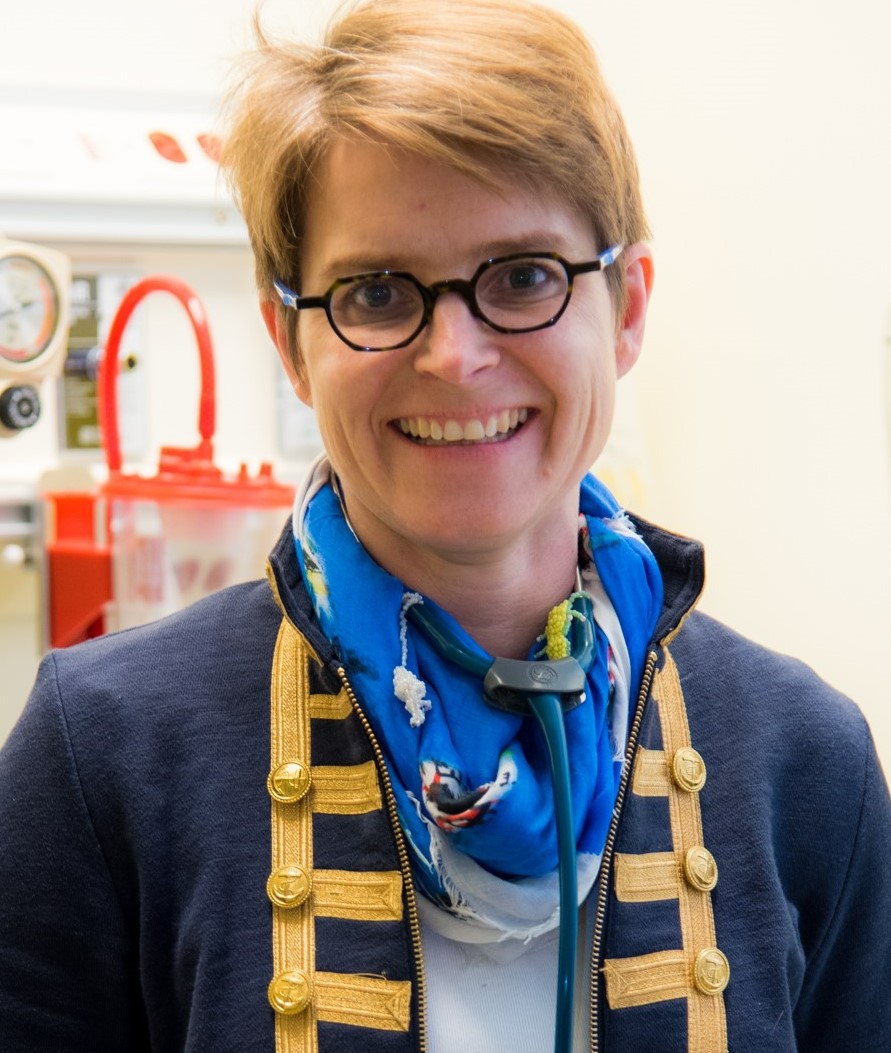 Dr. Lucie Lafay-Cousin is a pediatric oncologist at the Alberta Children's Hospital and an associate professor in the Department of Oncology and Pediatrics at the University of Calgary Cumming School of Medicine.
She did her medical training and fellowship in pediatric oncology in Lille and at the Institut Gustave Roussy in Paris. She completed a three-year fellowship in pediatric neuro-oncology at the Hospital for Sick Children in Toronto before joining the Alberta Children's Hospital in 2006.
Dr. Lafay-Cousin's primary area of clinical research is in pediatric brain tumours, with a specific interest in embryonal CNS tumors of early childhood such as medulloblastoma, atypical teratoid rhabdoid tumour (ATRT) and choroid plexus tumours.
She is the past chair of the Children's Oncology Group clinical trial ACNS 1221 for desmoplastic medulloblastoma in young children. She developed the Canadian registry of Atypical Teratoid Rhabdoid Tumors. Dr. Lafay-Cousin is also interested in intracranial germ cell tumors and the long-term follow-up of survivors of brain tumours.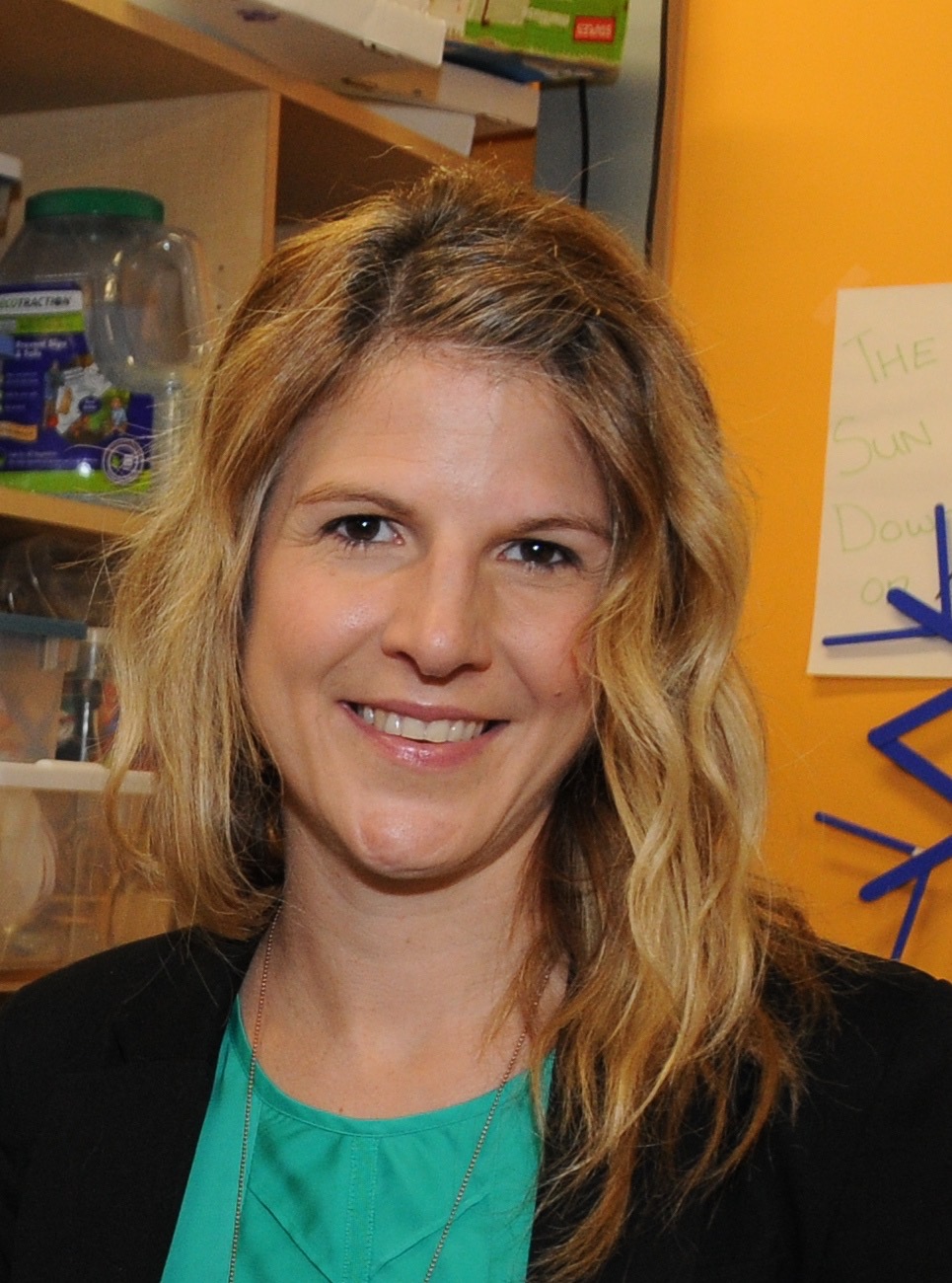 Dr. Fiona Schulte is an assistant professor in the Department of Oncology, Division of Psychosocial Oncology at the University of Calgary Cumming School of Medicine. She is also a registered psychologist in the Hematology, Oncology and Bone Marrow Transplant program at the Alberta Children's Hospital.
Fiona completed a postdoctoral research fellowship at the University of Calgary in 2010 and received her Ph.D. at the University of Toronto in the program of Health and Behavioral Science in 2009. Fiona completed her MA in Clinical Psychology from York University and her BAH with a major in psychology at Queen's University.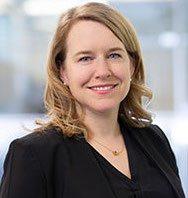 Community involvement and service has been a part of my life since I was a little kid. I am passionate about supporting organizations and causes focused on healthy kids and families, in the many extended forms that takes.
Since joining the Kids Cancer Care board in 2019, I have learned a LOT about childhood cancer and research and I am so impressed by the programs the organization delivers to children and their families. I feel incredibly lucky to be able to give back alongside such a wonderful organization.
Professionally, I am trained as a corporate lawyer, but now serve an executive role at ENMAX, where I lead the Legal, Policy and Regulatory teams in Alberta and provide strategic support to our new operations in Maine.
I grew up in Northwestern Ontario and then moved to Toronto for school and the first part of my career. Calgary has been home since 2006. There are still things I miss about Ontario, but I also appreciate how lucky my son is to grow up amidst real mountains.
Fun Facts!
1) What's your favorite ice cream topping?
I prefer ice cream with all of the deliciousness mixed right in – nuts, bits of cookie, berries, chocolate swirl, etc. – rather than just poured or sprinkled on top. Also, I don't think I have ever met a flavour of ice cream that I did not like. (Is there such a thing as bad ice cream???)

2) Dogs or cats?
We got our first pet two years ago – a mini goldendoodle that my son named Rocket. We have had lots of fun with him. Having a dog definitely gets us outside walking a lot more than we did pre-puppy.

3) What's something quirky about yourself?
My early jobs included topping pizzas at a local pizza joint and operating kiddie rides at a (non-travelling) amusement park. I'm lucky to love the job I have now, but you can learn something valuable from every job you do!