The experimental and applied therapeutics program (ExpAT) is a multi-disciplinary group of researchers, which includes basic scientists, pediatric surgeons, pathologists and medical oncologists, who are working in concert to improve outcomes for children with high-risk cancers. Meet the principle investigators behind the Calgary ExpAT team.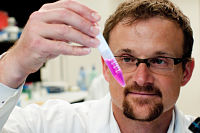 Dr. Paul Beaudry

Researchers in Dr. Paul Beaudry's lab are striving to understand the capricious nature of neuroblastoma and why, despite intensive treatment regimes, involving chemotherapy, surgery, bone marrow transplant, radiation and immune therapy, some children do not survive. They are exploring three new approaches designed to improve the diagnostics and therapeutic options for children with high-risk neuroblastoma.
Harnessing the power of cancer killing viruses
While most of us cringe at the thought of catching a virus, there are viruses that some researchers would love to get catch. Dr. Paul Beaudry and his research team are systematically testing viruses, which take advantage of the genetic changes of neuroblastoma, to more effectively destroy the cancer. They are also exploring ways to enhance the body's immune system response against tumours, with the goal of providing a rapid and long-lasting cure.
Using the body's metabolites to predict outcomes and treatments
Using an innovative technique called metabolomics, Dr. Beaudry and his team are learning to measure the body's metabolites, tiny molecules that can generate a thumbprint of the overall health status of different diseases, to predict which children can survive the disease with less invasive treatments and which children are at risk for not responding at all. The hope is, that one day, they will be able to do this with a simple blood test.
Unlocking the secrets of molecules that bolster neuroblastoma cells
Researchers in Dr. Beaudry's lab are beginning to identify rogue molecules that actually help neuroblastoma cells spread to other parts of the body such as the bone and liver. By finding and understanding how these molecules work, Dr. Beaudry's team hopes to uncover the secrets of how to block this process and save children with high-risk neuroblastoma.
Dr. Paul Beaudry is a researcher and pediatric surgeon with the Department of Surgery at the University of Calgary's Cumming School of Medicine, Alberta Children's Hospital and Southern Alberta Cancer Research Institute.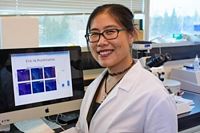 Dr. Jennifer Chan

Cancer is the number one disease-related death in young people. Of the solid tumours, those of the brain are the most common. Dr. Chan is a neuropathologist and clinician-scientist whose work focuses on understanding the relationships between brain cells during neuro-development and the molecular and cellular abnormalities underlying their transformation to cancer.
Dr. Chan's work focuses on two classes of brain cancers: PNETs (primitive neuroectodermal tumours, which resemble immature developing neural tissue) and gliomas (tumours composed of glial cells). Using patient-derived cancer stem cell lines and new genetic brain cancer models, she is examining how particular molecules send signals to neural stem cells to direct them either to grow or stop growing, and whether to become one type of brain cell or another. She is also involved in several large-scale, collaborative projects to molecularly characterize pediatric brain tumours including glioblastomas and different types of PNETs.
Dr. Jennifer Chan is an associate professor in the Departments of Oncology, and Pathology and Laboratory Medicine at the University of Calgary's Cumming School of Medicine. Deputy director of the Southern Alberta Cancer Research Institute, Dr. Chan also oversees the ExpAT program and a tumour banking program to support pediatric cancer research.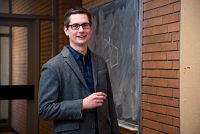 Dr. Darren Derksen

Dr. Derksen's research program centers on developing natural products into potential therapeutic compounds.
This includes, identifying new lead compounds, devising synthetic schemes to prepare usable quantities of materials for biological evaluation, and medicinal chemistry optimization to give lead molecules more 'drug-like' properties.
A recent recruit to the University of Calgary Department of Chemistry, Dr. Derksen is the Alberta Children's Hospital Foundation Junior Chair in Medicinal Chemistry with Joint Membership in the Alberta Children's Hospital Research Institute and the Southern Alberta Cancer Research Institute.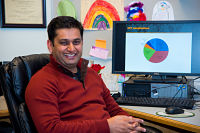 Dr. Faisal Khan

Dr. Faisal Khan's research group is actively involved in understanding the impact of diversity, expression and matching of different immuno-genetic systems on the success of blood or marrow transplantation (BMT).
Although BMT is a life-saving treatment for pediatric and adult blood cancers such as leukemia and other blood disorders such as thalassemia, it is toxic and can cause serious problems, including graft-vs-host disease (GVHD), infections and relapse of leukemia. In Alberta, BMT is truly beneficial for only 35 per cent of patients—20 per cent die due to relapse, 10 per cent die due to GVHD, five per cent die due to infections, while 25 per cent suffer long-term health issues related to GVHD.
The primary research theme of Dr. Khan's laboratory is to identify and characterize immuno-genetic biomarkers to improve the process of matching BMT donors to BMT patients in order to affect better outcomes. Providing vital immuno-genetic factors for clinical practice, this research will help health professionals select ideal donors for pediatric BMT recipients to reduce the risk of GVHD, infections and relapse. Their ultimate goal is to save young lives and improve the quality of life of children who undergo BMT procedures.
​Assistant professor in the departments of pediatrics and pathology and laboratory medicine at the University of Calgary's Cumming School of Medicine, Dr. Khan is associate lab director of the Tissue Typing Laboratory and Molecular Hematology Laboratory for Calgary Laboratory Services and the Barb Ibbotson Chair in Paediatric Haematology.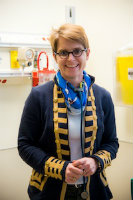 Dr. Lafay-Cousin

A pediatric oncologist and clinical researcher at the Alberta Children's Hospital, Dr. Lafay-Cousin's primary research focus is pediatric brain tumours, with a specific interest in the brain tumours of infants and young children, i.e., medulloblastoma, ATRT . She also has a special interest in germ cell tumours.
In her research, Dr. Lafay-Cousin is striving to understand the molecular makeup of a rare and aggressive brain cancer in young children called AT/RT (atypical teratoid/thabdoid tumour). The focus of her research is to identify clinical and molecular factors that determine whether or not a child will survive the disease.
ATRT Registry
To this end, Dr. Lafay-Cousin has developed the Canadian CNS ATRT Registry, the only national registry to include all children with ATRT, whether or not they received treatment. This population-based registry offers a true picture of the distribution, characteristics and management of ATRT in Canadian children and is a vital resource for researchers.
Understanding the molecular nature of ATRT
Furthermore, because the registry includes patient tissue samples, Dr. Lafay-Cousin has been able to contribute to the molecular characterization of this rare disease, providing researchers with a picture of the underlying genomic and molecular changes that ATRT cells undergo to multiply and survive. Armed with this new knowledge, researchers will be in a better position to develop therapies to directly tackle these specific changes.
Dr. Lucie Lafay-Cousin is a pediatric oncologist at the Alberta Children's Hospital and an associate professor in the Department of Oncology and Pediatrics at the University of Calgary. She currently chairs the Children`s Oncology Group clinical trial, ACNS 1221, for young children with desmoplastic medulloblastoma.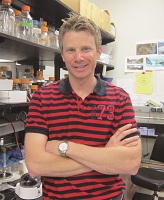 Dr. Douglas Mahoney

Oncolytic viruses are currently being developed as biological therapies that can seek and destroy cancer cells, while simultaneously enlisting the patient's own immune system to attack the cancer. This therapy is so promising that numerous clinical trials are currently underway.
But a major challenge for effective oncolytic virus therapy lies in the ability to deliver the virus from the bloodstream to the cancer cells. While oncolytic viruses have huge potential as a cancer therapy, surprisingly, it is not yet known how these viruses ever find a cancer cell to infect and kill cancer. But Drs. Mahoney and Jenne have developed an innovative method that may unlock this mystery. They have developed an in vivo imaging method to watch and track oncolytic viruses from "injection to infection" in live cancer models. In so doing, they expect to learn how these viruses naturally exit the blood stream and find cancer cells—a necessary and critical first step in the international effort to enhance the delivery of these potent therapeutics.
The work in Drs. Mahoney's and Jenne's labs will ultimately lead to new ways to enhance the delivery of oncolytic viruses to tumours and improve the clinical effectiveness of this promising new class of cancer therapy.
Dr. Mahoney is assistant professor in the Department of Microbiology, Immunology and Infectious Disease at U of C's Cumming School of Medicine and a member of the Alberta Children's Hospital Research Institute.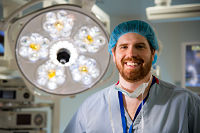 Dr. Michael Monument

Whether or not bone cancer spreads to the lungs could mean life or death for a child. And yet, we still don't know why and how some bone cancers spread. But with your support, Dr. Michael Monument is exploring these vital questions.
As an orthopaedic surgeon and researcher, specializing in the diagnosis and management of malignant pediatric bone cancer, Dr. Monument is extremely interested in how bone cancers metastasize (spread) to the lung.
Using high-end genetic sequencing and imaging technology, Dr. Monument's research group is studying different human bone cancer models to understand and characterize the common genetic and molecular factors responsible for lung metastases. He and his research team are employing a unique strategy to simultaneously assess the molecular changes that take place in tumour cells and in host lung tissue during the evolution of lung metastases.
Identifying these crucial pro-metastatic pathways is vital to recognizing high-risk patients earlier, while also paving the way for new, targeted therapies. Given the poor survival rate sarcoma patients who develop lung metastases, new strategies to prevent and impede lung metastases are essential to save young lives.
Dr. Monument is an orthopaedic oncology surgeon in the Department of Surgery at the University of Calgary's Cumming School of Medicine.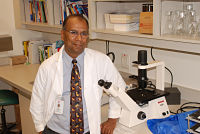 Dr. Aru Narendran

Dr. Aru Narendran's research group focuses on the unique biology of refractory pediatric cancers, those that do not respond to therapy, in order to understand why some children relapse and their tumour cells become resistant to conventional treatments.
Specifically, his laboratory is interested in understanding the growth regulatory pathways in the cancer stem cells of difficult-to-cure childhood malignancies such as infant leukemia. This includes developing cell lines or transplanting tumours into live models, followed by a quantitative assessment of therapeutic targets and drug combinations for activity.
His lab also strives to identify the biological correlates of drug action and the critical molecular factors of susceptibility, ultimately leading to new avenues for individualized treatments. Data obtained in his lab will enable researchers to design effective therapeutic strategies for early-phase clinical studies for children with incurable cancers in the future.
Currently, ongoing research projects in Dr. Narendran's lab include:
High-throughput screening (HTS) of pharmaceutical pipeline agents, developmental therapeutics panels from the National Cancer Institute and multiple compound drug libraries against pediatric cancer cells; and the
Isolation and characterization of the tumour stem cells from relapsed and refractory leukemia patients to institute personalized therapies for the treatment of these children.
A member of the Pediatric Oncology Experimental Therapeutics Investigators' Consortium (POETIC), Dr. Aru Narendran is an associate professor in pediatric oncology with joint appointments at the University of Calgary Cumming School of Medicine, Alberta Children's Hospital Research Institute and the Southern Alberta Cancer Foundation Institute.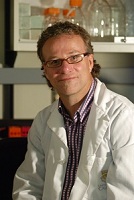 Dr. Stephen Robbins

Researchers in Dr. Steve Robbins' and Dr. Donna Senger's labs are focusing their attention on the discovery and application of new therapies for pediatric cancers, particularly children's brain cancers and sarcomas—cancers of the bone. Although medical research currently offers a detailed understanding of these cancers, nearly all treatments continue to fail. Robbins and Senger are trying to understand why.
Creating better cancer models for drug discovery
They believe a major obstacle lies in the fact that current pediatric cancer models used to screen and identify potential drugs do not take into account the lived context of human cancer. In an attempt to overcome this obstacle, these researchers are striving to develop better model systems that actually mimic the human cancer environment, making them better for screening and identifying potential drugs.
Understanding the mechanisms of cancer growth to stop it
Robbins and Senger are also focusing their efforts on metastases, the spread of cancer from one organ to another. It is now recognized that most cancer patients do not die from their primary tumour, but rather from the spread of the cancer to other organs. For instance, sarcomas tend to spread to the lungs of patients.
The Robbins-Senger research effort has now identified molecules that help prevent the metastatic spread of bone cancer. Their hope is that one day they can translate this novel finding into the hospital, where it can be used to treat children with sarcoma and other cancer patients.
Scientific director at the CIHR Institute of Cancer Research based at the University of Calgary, Dr. Stephen Robbins is a researcher and associate professor in the departments oncology, biochemistry and molecular biology at the Cumming School of Medicine at U of C and the Southern Alberta Cancer Research Institute.